22/04/18 14:02
Anthony left for the tour of Rhodes a few days before I headed off to Athens where we did meet up. Lots of meetings and catching up with friends from around the world, but all everyone except me could talk about was the election on Saturday. I was one of two candidates for the GC position.
Saturday morning, after a night of not much sleep and the last time I could address the electors in person before the secret ballot. So by 10:00 I was elected to great acclaim. My number of votes was kept secret which is a nice thing, but it was also good to be elected on the first round, so decisive. The day was spent in a round of congratulations from far and wide and then later in the day I was installed, but not before Anthony got his well-deserved Grand Croix which you can see here. He almost out-blings me with his Meritorious Service and his Greek award proudly displayed.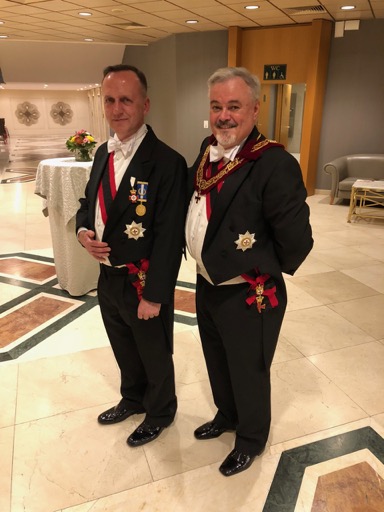 I was installed as GC, which is the equivalent of the CEO of the international organisation. I have already since Athens had so many emails and phonecalls and now I first have to learn what takes priority! My plan is to visit as many member countries as possible during my term of office.
Here is me taking my Affirmation of Office.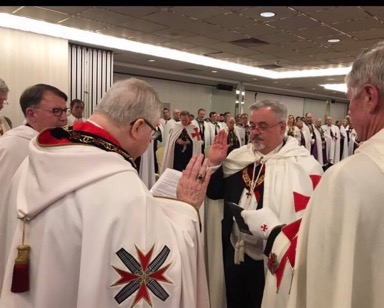 After my official acceptance of the post, the Armenian archbishop of Greece and several Greek Orthodox bishops then blessed me as you can hear below by following the link
George's Blessing
Later in the evening I took this action shot of our Bulgarian and Serbian friends, who were all complaining that I did not give them time to pose…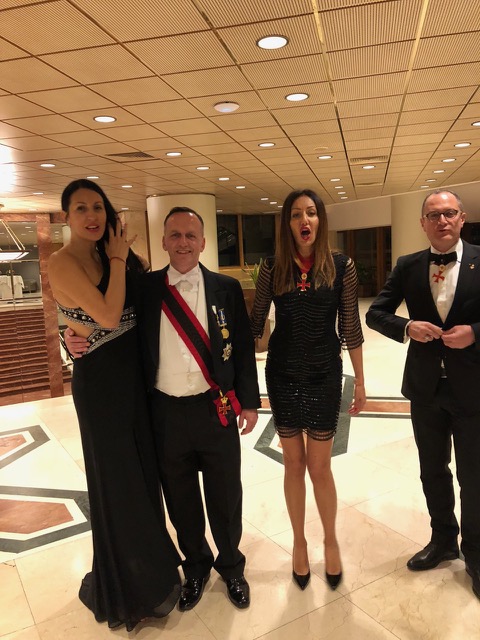 So now it begins. This new position has been described as being the President of a small nation, and with the amount of work so far, I cannot disagree!