23/12/18 08:09
So that means he is faffing around the kitchen making coffee and himself right at home. It is lovely to have him here again for another festive period, and there is football in McKays today so that will cheer him (should they win!). Last night we were at the "Wizard of Oz" which was great. They put on a wonderful show at Pitlochry Festival Theatre.
23/12/18 07:50
I have no idea why I am not updating this more frequently these days, as the editing tool is really easy to use!
Since September we have both been busy. October saw us in Belgrade for the Fall meeting of OSMTH, my first chairing such an event. It was a huge success. Then I worked for a week in Latvia which is always great. We had a new hot water boiler installed which was a struggle for the engineer to bore a hole through the thick walls, but four drill bits later it was done. Later in November I attended the 10th birthday celebrations of OSMTH Bulgaria and was interviewed on TV, and in newspapers and got introduced at the Parliament. I was also honoured with the award of Knight Commander of the Cross of Honesty which was a huge surprise and I was very humbled to receive it. Here I am on the masthead of the daily "Labour" newspaper!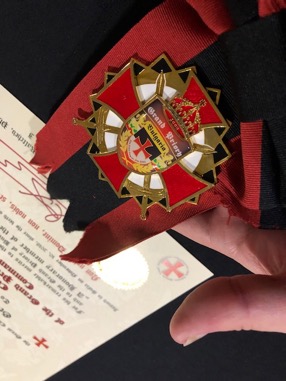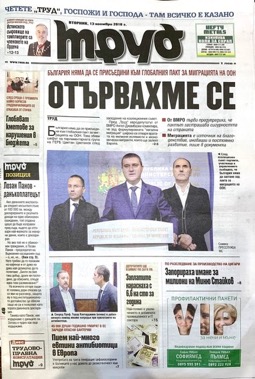 Winter came last weekend but only for a day, but what a day! Freezing rain, then snow and there are still patches of snow and ice around in Killiecrankie.
Of major note was that I received official notification that I have been awarded a papal knighthood. The documentation arrived this week but the lovely bling was already here. I am now a member of the Pontifical Equestrian Order of St Gregory the Great, First Class. This is commonly known as Grand Cross of St Gregory and I get to add GCSG after my name.